Friday, July 16th, 2010 by greenzabiha
We know you love your friends and family, and you love halal, organic, grass fed meats that nourish body and spirit. So we thought why not combine the two?
We're happy to announce the GZ Referral program. It's a simple way to help us out by spreading the word and at the same time get rewarded. For any new customer who places an order, you get $5 towards your next order! Get 10 customers and that is $50!!
And from now till the end of the year, for every 10 new customers we'll also add a free package of ground beef to your next order! So go ahead and spread the word, we sincerely appreciate and look forward to welcoming more folks to the GZ family!
You can let your friends know right now by clicking HERE.

A few details:
-To get credit they must put your name in the final step of the check out, as seen in the image below
-The credit is valid for a year
-You don't even need to be a customer to get the credit
Thursday, May 27th, 2010 by greenzabiha
Thank you for coming out, it was great!
If you are in CA, you can join our special CA update list by submitting your info below.
We'll be at the RIS conference in Long Beach this weekend. So plan to swing by at booth 433, to chat, and why don't you try some beef jerky while your at it?
Are you going to be there? Let us know.
Oh, by the way we'll also be launching our local California program!  Local grass fed halal meats in Southern and Northern CA! Let us know if you are interested so we can can keep you updated!
Monday, May 10th, 2010 by greenzabiha
May is National Beef Month!
To celebrate we're offering 10% off all our certified organic grass fed beef till the end of May. So not a bad time to stock up!
No coupon necessary, you'll see the discounted prices as you shop. So go ahead and get yourself some tasty, certified organic, grass fed beef steaks, ground, patties, or sausages.
Tuesday, March 30th, 2010 by greenzabiha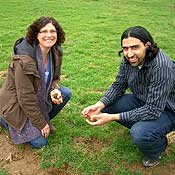 NPR Market Place just ran their story on GZ and KOL Foods. Give it a listen, leave a comment, share it, and let us know what you think. After looking at the picture, I'm thinking maybe Karima is right and its time to cut the hair? Hope she's not reading this.
Its interesting, many people were quite surprised that they used the word 'unlikely' in the title, since its really not that odd that Muslims and Jews would find common cause. In fact perhaps no two religious communities have a more intertwined history than Islam and Judaism. And even now in our modern context, there are many similarities such as the focus of the story; we both have a living tradition when it comes to dietary laws around meat.  However the historical connections are often lost, in fact many people literally erroneously believe that Jews and Muslims have some sort of inherent dislike for each other.  As one comment on the story stated:
'Finally, a story where Jews and Muslims aren't trying to kill each other!!!! Let's have more "good" news about life, I already know all the bad ones.
Another reality that gets lost in our present geo-political state of affairs is that Islam is a deeply spiritual path, 'spiritual' is probably not a quality most would even associate with Islam.  More on this in another post.
What Devora has been doing is an inspiration, and for anyone that is looking for Kosher, Grass Fed, Organic meats give her a ring.
Finally quick clarification, I mentioned in the story that I bought lamb from Devora, that was for my own consumption over 1.5 years ago before we had any.  But any lamb we have ever sold (or any meat) has been harvested by us.
Monday, March 29th, 2010 by greenzabiha
Salam and peace, tomorrow evening an NPR story that includes GZ will air on Marketplace. We spent the day with the reporter and tried our best to share our–and your–values. A major angle of the story is the professional relationship between GZ and KOL Foods, GZ for the Kosher community.
We hope it raises awareness of the importance of conscious eating, and perhaps shines a light on the reality of Islam that gets lost sometimes in the present geo-political discussions–it's a deeply spiritually nourishing tradition that helps us to strive to be better people who seek harmony with all creation. Part of this is returning to our classical view of halal (and tayyib), hence the title 'higher halal'. Factory farms that devalue animals into simple raw materials and strip them of any sacredness go against the very spirit of halal.
Tune in and let us know what you think, but don't be too harsh–honest it was a long day so we don't know how it'll turn out :-).  We'll be posting the link once its up.