Tuesday, March 30th, 2010 by greenzabiha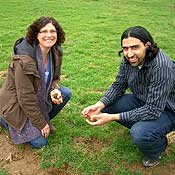 NPR Market Place just ran their story on GZ and KOL Foods. Give it a listen, leave a comment, share it, and let us know what you think. After looking at the picture, I'm thinking maybe Karima is right and its time to cut the hair? Hope she's not reading this.
Its interesting, many people were quite surprised that they used the word 'unlikely' in the title, since its really not that odd that Muslims and Jews would find common cause. In fact perhaps no two religious communities have a more intertwined history than Islam and Judaism. And even now in our modern context, there are many similarities such as the focus of the story; we both have a living tradition when it comes to dietary laws around meat.  However the historical connections are often lost, in fact many people literally erroneously believe that Jews and Muslims have some sort of inherent dislike for each other.  As one comment on the story stated:
'Finally, a story where Jews and Muslims aren't trying to kill each other!!!! Let's have more "good" news about life, I already know all the bad ones.
Another reality that gets lost in our present geo-political state of affairs is that Islam is a deeply spiritual path, 'spiritual' is probably not a quality most would even associate with Islam.  More on this in another post.
What Devora has been doing is an inspiration, and for anyone that is looking for Kosher, Grass Fed, Organic meats give her a ring.
Finally quick clarification, I mentioned in the story that I bought lamb from Devora, that was for my own consumption over 1.5 years ago before we had any.  But any lamb we have ever sold (or any meat) has been harvested by us.
Monday, March 29th, 2010 by greenzabiha
Salam and peace, tomorrow evening an NPR story that includes GZ will air on Marketplace. We spent the day with the reporter and tried our best to share our–and your–values. A major angle of the story is the professional relationship between GZ and KOL Foods, GZ for the Kosher community.
We hope it raises awareness of the importance of conscious eating, and perhaps shines a light on the reality of Islam that gets lost sometimes in the present geo-political discussions–it's a deeply spiritually nourishing tradition that helps us to strive to be better people who seek harmony with all creation. Part of this is returning to our classical view of halal (and tayyib), hence the title 'higher halal'. Factory farms that devalue animals into simple raw materials and strip them of any sacredness go against the very spirit of halal.
Tune in and let us know what you think, but don't be too harsh–honest it was a long day so we don't know how it'll turn out :-).  We'll be posting the link once its up.
Wednesday, March 17th, 2010 by admin
For the remainder of March there is a 10% sale on the following certified organic grass fed lamb cuts!
To see the amazing way these lambs are raised, check out the gallery.
This great deal expires March 31st.
Wednesday, March 17th, 2010 by admin
Anyone interested in letting the world know why free range organic meat that is harvested using halal methods is important to them? Is it spiritual, health, environmental benefits? Let us know if you can help out with a radio interview, in the next week get in touch with us.
We know there were several customers who were vegetarians for several years, and others that only bought non-halal organic. We'd love to hear from you and your story of what it means to you.
Thursday, March 11th, 2010 by admin
NY Times: The New Caveman Life
An engaging overview of the emerging paleo movement. The idea is that humans should live and eat as they did when they were hunter-gatherers, since that is what we evolved to do, and modern food (cooking, dairy etc) and society have only come about relatively recently.
I agree completely with the spirit of living in a way that is more connected with nature; after all we wake up in our air conditioned houses, get into our air conditioned cars, and into our air conditioned offices sitting in a cube in front of a monitor all day…We don't even know what the climate is like and if we need to check the weather we rarely push aside the blinds and take a peek out the window, or venture outdoors, we'll log into a website! According to many sages modern man is disconnected, from each other, ourselves, nature, food that sustains us and ultimately reality.
Their alternative view on working out also makes a lot of sense, most traditional forms of exercise engaged the full body, and of course you didn't really need to exercise when you were hunting and gathering. I recall seeing mountain villagers from the Kashmiri highlands, and they were amazing physical specimens that lived long healthy lives (that is for another post…).
From a diet perspective we obviously agree in eating well, and eating meat that has been raised naturally to ensure its wholesomeness. We do have some quibbles (like raw meat, no grain, no dairy), but nonetheless its quite an interesting movement that is highlighting some of the challenges we face.
We'd all agree that reconnecting modern man with reality is important, and by returning to traditional methods of living that have sustained humans for centuries we could benefit greatly.